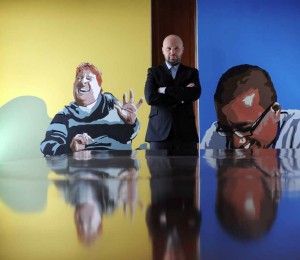 Digby's exploration of space is dynamic in its articulation of the relationships among self, object and location.
Dr. Doug Sandle
Biography
I was born in Grimsby, North Lincolnshire in 1971. I studied at York College, gained my degree from Norwich Art School and my Masters is from the University of Leeds. I live in Leeds with my partner and two children.
Artist Statement
My practice contrasts how we determine meanings within narrative constructs and the notion that not everything has a meaning.
The main concerns of my practice are:
a. Drawings: These currently involve developing mark-making techniques employed by George Seurat. This includes layers of graphite and fixative applied using cross-hatching and circular movements on paper with a grain. I will focus on using light and dark blocks of contrasting tone.
b. Sculpture: By adapting drawings to create and further techniques in to three-dimensional objects (see www.pauldigby.co.uk for other sculptural work). I will also be able to develop how form, colour, shape and texture convey a concept.
c. Research: The context for my practice relies on making and exhibiting work, a process that is best explained through Psychological theories of stimuli and response. My response to a specific stimuli becomes the stimuli for others to respond to. The objects I create are an unconscious manifestation of materials where I aim to attribute a narrative with meaning for the audience.
Proposed practice:
Over the following proposed year I will continue exploring new materials. This is to assist in developing a series of four varying sized figurative sculptures and a series of drawings of people who work in the Emergency Services. I have made drawings (encloseld) and have a number of photos to work from.
I will research and develop the materials Cast polyurethane elastomers, clay sculpting, styrofoam, casting platers, epoxy resin and paint. These materials are ideal for interior and exterior models and in order to use these I will budget to attend materials workshops or commission professionals for training. I will continue to work with graphite on paper.