Untitled series
This is a series of paintings and drawings. To achieve them Paul manipulates digital images on photoshop and then scales them up and draws the images out on to A3 or A2 paper. He then mixes the paint and applies or works with graphite on paper with a grain. Whilst Paul works he would listen to the positive transformative inspiring sounds found in house, acid house and rave music from between 1986 and 1992.
These works were shown in Scarborough Art Gallery, AiR Open, Depot Arts, Saul Hay Gallery, Huddersfield Gallery, the Bowes Museum, Bankside London and Tulsie House.
With funding from the Eaton Foundation and Openhiem Trust.
Most of these works are in private collections.
At home and at work
2009-10 Gouache on paper
These series of paintings feature people in isolation and alienation. They are partly from memory and partly fabricated. They feature people in emotional distress, at the beginning and end of a chapter in there lives.
Most of these works are in private collections.
Interior and exterior

2008 Gouache on paper
"The flat poster-paint colours of Paul Digby's paintings relate intriguingly to their emotional ambiguity; their ubiquitous searing blue skies are particularly haunting (is it a searing cold or searing heat?). The flat planes and complex, fractured patterning displayed here seem to recall the 'neural geometries' that so obsessed J.G. Ballard. Images that reward meditation."
Dr. Sam Francis
Most of these works are in private collections.
High Royds Hospital corridor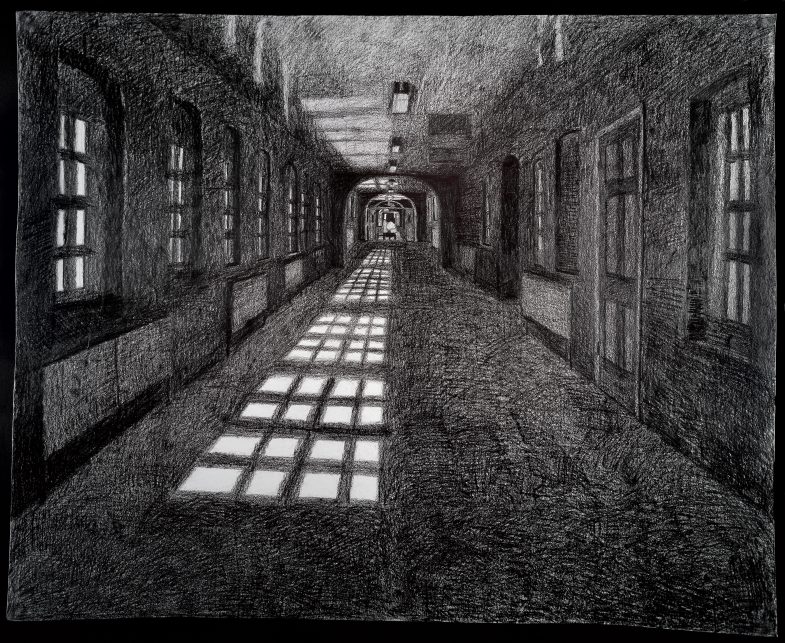 Graphite on paper, 2003.
This drawing is owned by the Wellcome Trust and featured in the Bedlam and Beyond exhibition. The drawing was made alongside a series of wall drawings commissioned by the NHS and to mark the closure of the hospital.